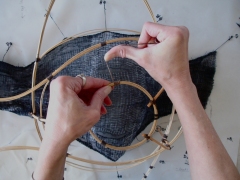 BIO
A recipient of a National Endowment for the Arts Fellowship, sculptor Mo Kelman has taught at leading New England arts institutions and shown her work in more than 50 exhibitions across the United States and in Europe, Japan and Korea.
She has exhibited at the Federal Reserve Art Gallery in Boston; Chazan Gallery, Newport Art Museum, Brown University and Providence College Galleries in Rhode Island; Westbeth Gallery, 1155 Avenue of the Americas Gallery and Narthex Gallery in New York; the Cleveland Museum of Art; the British Crafts Center in London; the International Shibori Symposia in Nagoya, Japan and Hong Kong; the International Textile Symposium in Kyoto, Japan; and at the Cheongju International Craft Biennale and Heyri Art Factory in South Korea. She is a recipient of a 2012 Artist's Fellowship from the Rhode Island State Council on the Arts.
Kelman, who lives in Providence, is a professor emeritus of art at the Community College of Rhode Island and has taught classes and workshops at Haystack Mountain School of Crafts, Snow Farm, Maiwa (Vancouver), Zijdelings (Netherlands), Fibres West (Australia), Massachusetts College of Art and RISD. Kelman received her MFA from the University of Massachusetts-Dartmouth.
STATEMENT
I am fascinated by simple building methods, lines, contours, structure and order. I contrive forms that merge physical aspects of architecture, industry and nature. Transparency, lightness and shadows are essential elements for me in my search for a logic that is both formal and poetic.
Current work is inspired by ephemeral phenomena—clouds, weather, smoke and flowing water. Complex forces determine their shapes from moment to moment: air movement, massing of water molecules, temperature change, evaporation, gravity or chemical transformation. I enjoy the irony of anchoring these dynamic forms in place.
Often I build tensile structures, where a pliable membrane is bridled and shaped by cables that apply tension. Using mokume shibori, a shaped-resist dyeing technique, I transform white silk organza into an elastic, translucent, woodgrain-patterned membrane. This skin is tied to structures I build with wood, bamboo and wire, and takes its sculptural form in response to stretching and tethering.
My work continues to reflect my deep sense of foreboding, awe and curiosity in nature as it exists today.